March turned out to be a great month for one simple reason: vacation! My boss and family left for Rome a little less than two weeks ago, and I stayed behind to have some alone time, take care of the animals, and have a vacation of my own. The first weekend didn't go as well as I'd hoped; some friends and I took a weekend cruise to Riga, an island in Latvia, and the cruise was really stressful for me. I was constantly seasick, I was nursing a headache from a concussion (I slipped on the ice) and I drank entirely too much alcohol. It was also cold and I had an ear infection so as you can imagine...not much relaxation!
This past weekend went MUCH better. Henri and I booked a weekend at the Clarion Hotel in Stockholm, a 'Romantic booking' complete with bottle of champagne, a couples' massage, and dinner at the hotel's diner. It was exquisite. Everything about the stay was relaxing, and with our massage we got to take a dip in the pool and sit in the sauna AND a steam sauna! (My favorite. Henri wasn't thrilled with it.) The pool opened up onto an overlook, so it was officially the fanciest pool I've ever swam in. Dinner was delicious, too...and the hotel had a great breakfast the next morning. I think both Henri and I really needed the pampering and solitude.
Saturday was fun as well; I met Henri's mom, who is officially the most adorable and wonderful woman ever. (The kind of mom who has like six tons of baby photos of Henri that I got to squeal at and look through.) She made us reindeer meat for lunch, and we had pie with homegrown and handpicked berries after. Mmmm, Sweden. After we had lunch and I cooed over Henri's baby pics and his mom's two cats, we decided to go snooping around a bit in Gamla Stan, Stockholm's prime tourist location. I really love that Henri never gets tired of spending time doing touristy things with me in Sweden despite living here.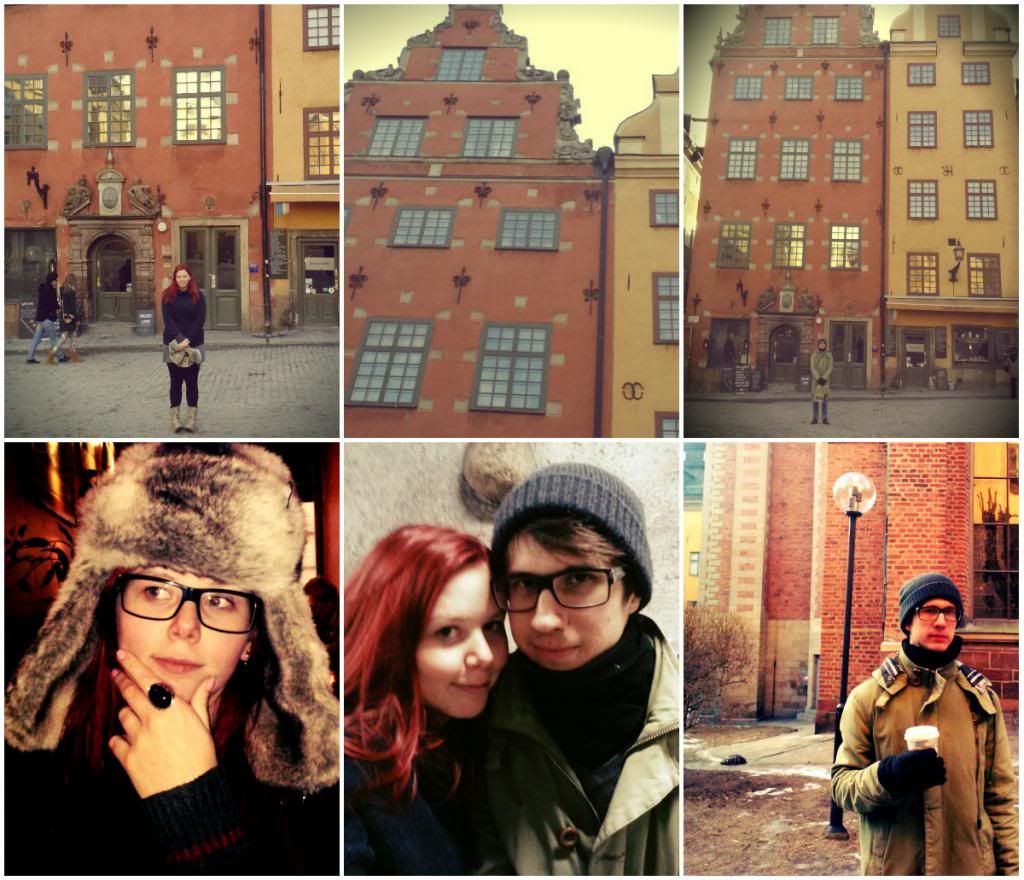 We had so much fun digging through antiques and drinking super hip trendy gay coffee. One really great find was a small pocket almanac dated 1939 that had, in old cursive Swedish, "Sept 1 Germany and Poland have gone to war." I can only imagine what it must have felt like writing that...if the writer had any clue or premonition about what was to come. Things like that definitely make me understand and appreciate why people collect antiques. Anyway, I can't wait for spring to REALLY get here...I can only imagine how beautiful Stockholm will become. And after we were done touristing, Henri and I met up with our mutual friend Frida, for some Finnish karaoke night at a local bar. It was for lack of a better word, horrible and hilarious and wonderful. A great way to finish up a great weekend.
I've mentioned Henri a lot on this blog, but I haven't really spoken about how we met or started dating. It's a probably uneventful story, but it was actually through Frida, our mutual friend, that we met. He knew her for years before I did; when I was in Sweden of March 2012 visiting, Frida and I spent time together and she told Henri about me. Henri was curious (who wouldn't be, I mean look at me) and wanted us to all meet together, but I got sick the same weekend I left for America and couldn't make it out for drinks. When I returned to America I looked up Henri on Frida's facebook and messaged him, apologizing for my flakiness.
We started talking on an almost daily basis after that. We both liked Fallout, ambient music, guns, and politically incorrect humor. Sometimes we skyped and other times we just messaged each other, but we never ran out of things to say. We were also strictly friends, going through our own romantic endeavors independently (and I through separation, which was a huge deal of course.) I liked Henri a lot, he was a great listener and always someone I could count on even if it was just for a joke or to vent to when I was having a bad day. So naturally we were excited to meet once I came to Sweden to visit.
From then, things just happened...well....
naturally
. He's just as easy to talk to in person, even funnier to be around, and we still never run out of things to say or do. I have so much respect for Henri and the way he lives his life, and I always want to be around him or, as girlfriends like to do, smother him to death until he runs away screaming. We went on our first date right after Christmas, s
pent New Year's Eve together
, become an 'official' couple in January, and spend most weekends together now. He's 2 hours away from me, which makes us a technical long distance relationship, but it's still the closest I've lived to a boyfriend since I was like 18. And we still talk every day.