Dear blogger land, I profusely apologize for my absence. First I got sick, then I got deathly ill, then some other stuff happened. I will summarize as best as I can, and then show you some photos.
--My RSS feed got messed up again somehow. It was screwed up when I switched to a custom domain a year or so ago and now here we go again, screwing with things. The problem is that I know exactly as much about RSS feeds as I do soapmaking and chimney sweeping. Nothing, in other words. I've been looking for a blogging help site that will take over and fix it for whatever sum of money they want--I'm desperate here--but either nobody wants to fool with me or nobody likes money, because no one has been able to help. Google Reader is being retired this year too so that's just dandy, I can't wait to deal with that mess too....
--Far less depressing news: tomorrow (Friday) I get to go to my first weekend cruise! And another country! Technically an island...but the island
belongs
to another country, so this totally counts. I'm going with my boyfriend and some awesome, awesome Stockholm friends. I've never been on a cruise, so this is a first. Expect pics and probably stories of our drunken seasick adventures.
--My host family will be out of the country for a few days starting next week, and for the very first time I will be alone alone alone. I'm kind of nervous, but also excited!!! I plan on working on my ebook, and painting. I also have a mini-retreat planned with Henri as well.
--Of course I haven't been posting lately but I am still really excited about my 12 Months of Self Love project. I've noticed a slight shift in how I've been thinking and that is just amazing. I will elaborate on it during my next self love post. Just expect more questionnaires, philosophical ponderings and rants, and maybe even some photos or backstory to my journey.
--It was beautiful and sunny for a week and I got my hopes up for Spring and life seemed wonderful. Then we got a foot of snow again, no big deal, and of course I fell on the ice and got a concussion. I'm still sore.
These pics are a few weeks old; the bridge is in Kristineberg (Stockholm) near Henri's house. We always pass it walking to his apartment from the subway station. When I first saw it, I was depressed and kept having the morbid thought of jumping off. But now I associate it with Henri and our relationship and it makes me really happy.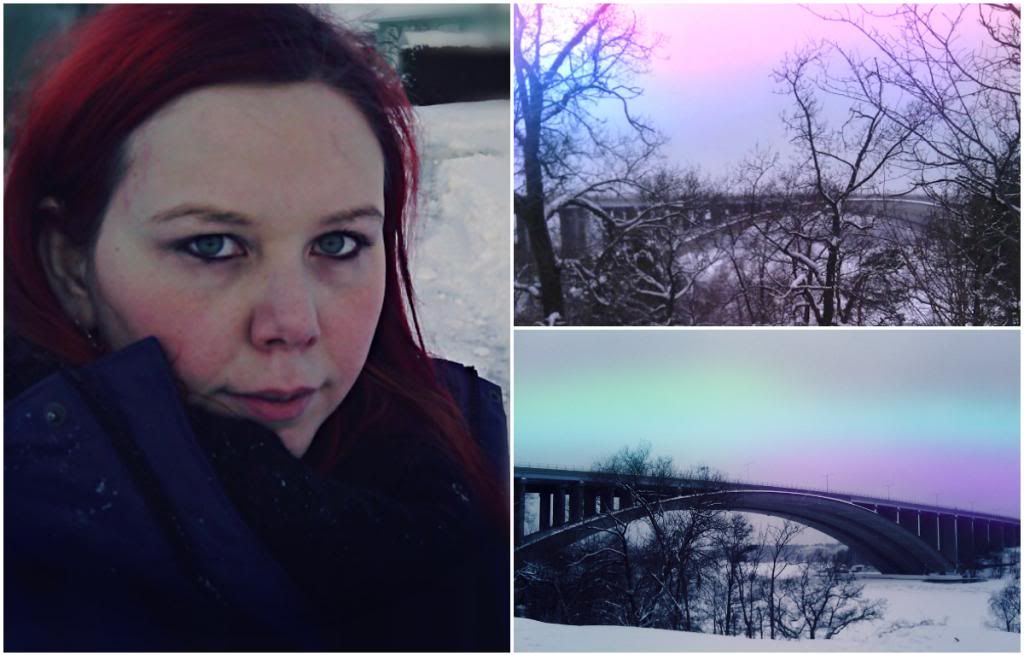 Toffi finding the sun.