Happy March everybody! Late to the party, but I've been retardedly sick for the past however long and I just took a week off blogging (and everything else) until I felt better. And now that I do, I want to talk about something very important to me: introversion!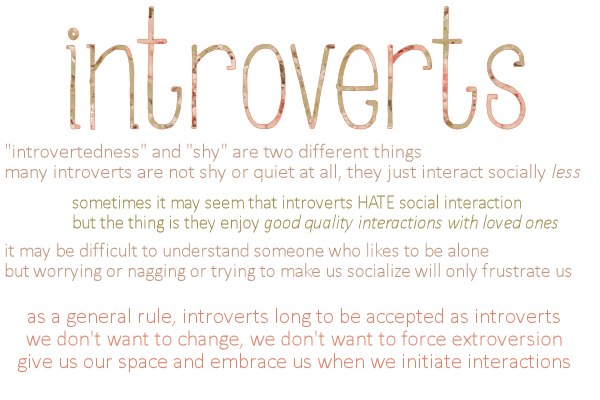 Top: OMG sun in Sweden!!! Thank you March!!
Bottom: I couldn't find any good text graphics for introverts so I made one.
I stalk Tumblr and Blogger regularly and one of the things I see a lot of people talking about is their "social anxiety" or "introvertedness." Either theirs, or a loved one's, perception that they are somehow socially inept or don't fit in because they are an introvert. First of all I'd like to clarify that social anxiety is a very real thing; I've felt it myself, but having that anxiety and being an introvert are two totally different things.
I'm an introvert and I embrace it wholeheartedly. I can go days without human interaction and focus on work, art, writing, etc. There is nothing wrong with this whatsoever. I've learned to find people in my life who can accept my lack of "there-ness" and who know how straining social time is for me. Instead of chilling and doing nothing and wasting time, we have deep meaningful talks and interactions. Because you may not know this but this is something very important to know when dealing with introverts:
Time spent alone is energizing. Time spent with others is draining. Even if it is a great time and we are enjoying ourselves, our batteries are still going down.
Think of it like a vampire to the sun: a vampire might really LIKE being in the sun, might enjoy sunshiney activities and their favorite season might be summer, but there's still a very clear limit on what is acceptable and what is harmful. I think a lot of introverts don't realize or want to accept that being in public/with others is taxing on them, so they force themselves to interact well beyond their energy levels and then get frustrated, annoyed, scared, feel awkward, etc.
And of course everyone is different, but whether you are an introvert, have one in your life, or both, please remember to be kind. Check up, ask yourself (or them) "How are you feeling? Do you need some time to yourself?" If the situation is becoming stressful, step out. I thought that I had problems a few years ago (before I embraced my introversion) because my friend would always ask me to sleep over and I always declined. Even though it's nice to spend time with her and I loved being at her house, I NEEDED to be in my own bed when the time came to sleep. That's just how I am. One night I forced myself to sleep over to prove that I had nothing to fear, and I was miserable. A total mess. I couldn't think about anything except going home.
There's no reason for introverts to feel weird, feel like they can't make friends, feel like they're too "hermity", or anything else. Introverts get lonely, and it's important that when they do, they have family and friends to turn to and get feedback from. It's probably difficult for people who aren't introverted to understand how someone can go days (or weeks or months) without calling or texting, then suddenly want to talk. You may feel blown off or ignored; this is probably not the case. Just remember are are like vampires and the world is our sun; and if you are an introvert, you should be happy!!! Introverts are very independent, and usually creative and thoughtful thanks to those many many hours spent in solitude.