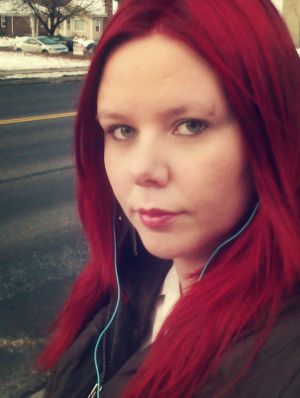 "What you call "love" is nothing more than a wishful fancy. Let me tell you one thing, and then let us speak of it no more. Love is a weakness. Love is a cancer that grows inside and makes one do foolish things. Love is death. The love you dream of is something that would be more important to one than anything, even life. I know no such love. What I know is passion. The respect of equals. Things far more valuable that I'll not speak to you any further."
--Morrigan, Dragon Age Origins
I've been wanting to write about this for a few days now but I haven't really known what to say or how to word it. But I guess I've gotten my thoughts as in order as they're going to get.
I've
whined emo-ly
several times now on this blog about love and how I feel that it eludes me. Or for some reason that I don't deserve it. This has been a constant thing I've felt since childhood and I'm sure that unfortunately, many can relate in some way. Still, it wasn't until
Brianna
left a comment that I started reflecting that maybe my definition of love wasn't appropriate or accurate.
I have been thinking lately about the type of people I love and who love me. While I have no problem in the realm of friends and confidants, people in relationships don't really give me what I feel the love I deserve is. I guess maybe that sounds haughty of me, but then I wondered, well, do I love anyone? I'm not talking, again, about friends and people I consider family...those I love without question, would die for without question, would do anything for and they hopefully know and understand that. I'm talking specifically relationship-type love in this blog entry. The kind of people who marry each other or have these at least seemingly-deep connections and mutual respect for each other or something that eludes me.
I've only felt what I would call relationship-love for one person, and even that is testy and a whirlwind at times and more often than not I'm feeling a plethora of negative emotions alongside that feeling of relationship-love. It never just stands alone as a good feeling, one that I can believe in at a time like this. I've never been able to just truly embrace that singular feeling so I don't know what it holds and all of its secrets. Also, that person has never loved me back, which gives me no reason whatsoever to even attempt to understand my love for them and what to do about it or what its potential is. The fact that this one relationship is the closest I've ever come to real, true love and it's such a messy and rocky and unstable give and take makes me think...well,
that
must not be relationship-love either. Nor am I content with others' definitions of relationship-love. I feel that it doesn't pertain to me (as I have always felt) and due to my low self-esteem I really also feel like I'm not worthy of even learning more about love and what it has to offer. It's not a priority. I never felt that it was, but what's different now is that I'm not even fucking sure what it is I'm searching for.
What is love?
(Baby don't hurt me...don't hurt me...no more)
What is it really? It's something more than that protective desire I have to watch over and take care of my friends and family. It's something more than passion and emotions that I feel with lovers. It's obviously not the stuff marriages are made of, or so many marriages wouldn't be failed (including my own). It's also obviously not the stuff in fairy tale romances, because we've all accepted that those don't exist. What more could I do to show someone that I relationship-love them than offer my life, and yet there are tons of people that I would do that for because I'm selfless in general when it comes to my friends? Do we marry our best friends (as so many bloggers gleefully proclaim) because we get along well and we care and it's that simple?
This specific type of one-on-one love is not something that's found in nature. Humans have been borrowing their morals and shit from religious texts for thousands of years now....is love one of those doctrines we learned about through myths? Just like the completely ludacris idea of souls? Or is that even ludacris? Marriage, I firmly believe, is completely unnecessary and at most should be a ritualistic ceremony embracing an emotional bond between a pair of people who want to accomplish mutual goals in life. Marriage is also rooted in religion and the stigma that surrounds "unconventional" marriage and relationships is yet another insanely out of date problem that shouldn't even exist and yet thanks to religion, it does. So is the idea of love like that?
I don't know why I care about the people I do, in the way that I do, either. I know that we humans started out as pack animals and just the same way as other packs do, we look out for each other. We respect each other and we test boundaries and we work together and oftentimes, we enjoy it. Maybe it's just a good quality of mine that I can be such a good friend and so ferociously take care of those in my life. I never had anyone do that for me when I needed it, when I was a kid, so that probably influences my want and drive to do so for others. But it has very little to do with relationship-love.
So as you can see I've entered an existential crisis on whether or not love is real. It's very humbling and also very depressing to realize not that you don't love..or not that someone doesn't love you...but that you don't know what love is, or worse, IF it is, or if it's one of those things that like God, was something to keep you cozy on those lonely nights. It's unnerving, considering how potent love is in our society and how generally accepted it is to exist and mean something wonderful. I feel like a large part of my entire being is now just empty, and silent, and that makes me wonder what else isn't real, or what else I'm unsure about.
None of this probably makes any sense, and that's okay. Go on with your lives as normal and I will be over here poring over coffee and growing a beard like all those suicidal philosophers before me.