This is one of those entries I really struggled with thinking about writing, thought, maybe I should just wait a few days, or not at all because it's personal and I hate knowing there are people who read my blog and might think that I'm a total pussy, or whiny, or whatever. I mean I have no problem if someone says "wow that blogger is a bitch" or "you're a terrible person" because those things have no validation with me, I find them funny. But if someone said, "wow, you sure do whine and complain a lot" I'd have no argument, because I feel like I do.
That's probably just me over-analyzing myself, but at the end of the day, it's my blog, so I DO WHAT I WANT.
Like take terrible pictures of myself at midnight.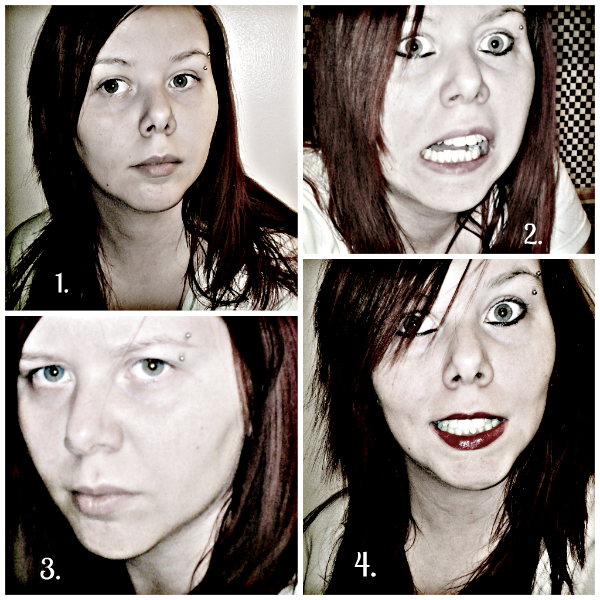 1. Before makeup. 2. This was supposed to be an outtake.
3. Something close to my resting face. Scary. 4. I'm fucking psycho.
This day....was a day to be remembered. It was the start of a new week. If I'm having a bad time it rarely lasts longer than a week. I kind of mentally say 'that's enough now, let's get back to being happy and normal.' But it was not in the stars, not at all. Already in a terrible mood and just...down as all hell....I had to take the car to the mechanic. It had stopped working, as in, no more anything. Ever. In the continuing trend of stupid people meandering into my life, the mechanic made my head explode into brain goo all over his counter. Here's why (because I just can't make up this shit)
We needed an alternator. Autozone had one for $130. Phillips, (the place I went yesterday) quoted me at $350. When I mentioned that Autozone had the cheaper part, the mechanic said in that huffy condescending voice, "They have cheap parts. I won't even buy from there. You'd never catch me dead in there. If you want to go drive and pick it up I'll install it for you."
Go drive and pick it up
go drive
...As my fucking car is sitting, NOT WORKING, in his garage. Like ten feet away from us. Unable to move. Dead battery. Yes, I will drive my fucking broomstick right the fuck over there. And then I will beat you in the head with it upon my return. Stupid ass.
So anyway, then I got to go to the doctor, and here's where the story gets good. I got to get poked TWICE with needles. Thyroid levels? AWESOME. Problem? My doctor and I are very close. She's a really great woman who has taken the time to get to know me since I started visiting her. She probably knows me better than most other people, which is weird maybe. Regardless, she saw how tired and worn down I looked and started asking me about stuff. I told her I'd gone probably 30 hours with no sleep, and I told her about how down I've been feeling.
And this is the part that's hard to write....after discussing it she suggested putting me on a really low-dose antidepressant. She was really worried about me--early this year I was having panic attacks and anxiety problems, rather manic, and now I seem to be slipping too far in the other direction. Depression. And let me tell you, I know the difference between depression and regular old sad. I've been chronically depressed before. Suicidal. I hate talking about it because anyone can throw out 'I feel depressed'.
But the truth of the matter is, this is something that runs heavily in my family, and it's a mental illness I've had since my early teens. And the other truth of the matter is that it's something you learn to live with, like any other disease. If there is a miracle cure for depression, I've never found it. I have to be really careful, like an alcoholic around alcohol--if I sit in the house too much, if I sit and dwell too much, it is very easy for me to give into that illness and spiral downward into that terrible place where apathy rules over everything and my biggest enemy is myself.
I didn't argue with the doctor, which is weird, because I pride myself that I don't have to take any medication. I don't really believe in it, I don't like putting chemicals in my body, and the side effects to me outweigh the benefits with just about any pill. But the simple fact that I didn't argue shows how scarily exhausted I was. I didn't feel like fighting for alternatives. I just said okay, and went to pick up my fucking pills.
When I was 16 I was prescribed Zoloft. It was a 25mg dosage and I never took it. I swore I'd fight through the depression without it, and so my crazy ass aunt sold the pills and I never ingested a one. When I got the same medication--sertraline--today, I cried because the dosage was 100mg. The doctor told me to just take a half a pill every day, which lowers my dose to 50mg, but that's still twice the amount I was told I needed as a kid. Body weight arguments couldn't deter me. I was convinced I was just hopeless and helpless and depressed.
So, because I am just too mentally fed up to fight anymore, I am going to listen to my good friend Dr. Wells and take the goddamn happy pill and see how I feel after a month. I am also going to start taking coconut oil again as well as forcing myself into sunlight. I have an almost hilarious vitamin D deficiency. Anyway, this is me, I'm a fucking nutcase, I hope you enjoy.