(Picture is unrelated, but hilarious.)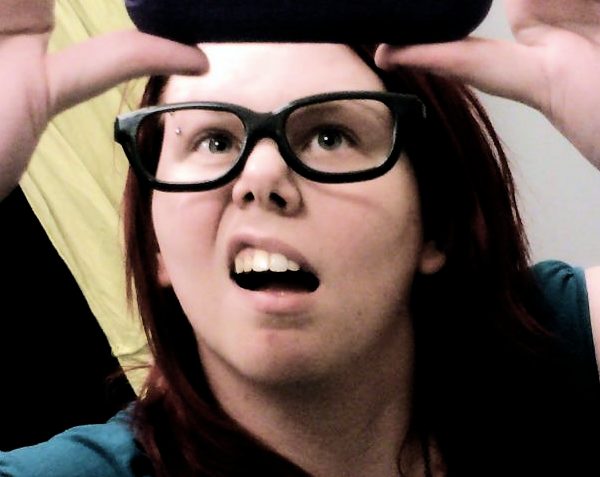 So, this is going to sound whiny. Somehow my blog went from being a random conglomerate of stupid shit to being this ultra-mega-serious place where I'm overly-depressing. It's dumb, because this is seriously the best year of my life and my blog should be a vomit of rainbow glitter, but I like writing about the things in my head so that I can look back on them and see my perception on things...maybe as a way to see growth, or a way to reminisce, or both. Either way trust me when I say I'm not whining, I'm actually very happy with most things in my life, but stagnancy and contentment signifies the end of learning and growing, so I'm never completely satisfied.
Enough with the disclaimers. Onto my thoughts. Now, one thing I'd like to mention pertaining to this is the fact that I've learned "reality" means nothing from one person to the next. We all live in very different realities and that's fine, it's unavoidable seeing as how culturally we're all so different. Sadly some people's reality is waking up and fighting for food, every single day. I don't expect other people to have the family stigma I do, or the outlook on love that I do. Had things happened differently to me, I wouldn't feel this way, but this is my life, so here are my thoughts on love.
My current thought process covers two things: one, what love actually means (in a relationship kind of way) and two, the way I react to perceived love. I'll tackle them one at a time. Here's where I sound whiny. After years of consideration and my own relationships, I've decided that my real, true belief in "true love" is waning if not nonexistent. Like other things I looked forward to and dreamed about in youth like having children, the older I get the less it seems plausible that things like this will make me happy. I used to watch Disney movies with all the conviction of other girls, but again---my reality involves the lack of ultimate love and trust. In my reality I trust someone as far as I can throw them, MAYBE. And I don't have a desire to trust or love more than I already do. I have great friends. Great bonds. I've been burned in love like everyone else and maybe I'm just bitter, but I don't think that the kind of love other people have found in marriage and whatnot, exists for me.
And I'm just now getting sad over it, because I find that I'm lonely. I travel a lot...alone. I explore, alone. I paint, alone. I listen to music, alone. I'm so introverted that it's usually not a problem, but lately it's been really getting me down that I don't connect totally to anyone. I don't know if this is a real problem, or if it's a passing phase of the once-belief in true love that I harbored for years. The desire for a family is at the moment anyway, a billion light years away. The thought of children mortifies me. Getting a house stresses me out. All of it just seems terrible and horrible. (lol, Avengers. Dr. Banner: "well, this...all...seems horrible." Anyone? Anyone? I love that movie...)
Picture actually has SOME relevance...check out the portrait in the background. Self-portrait.....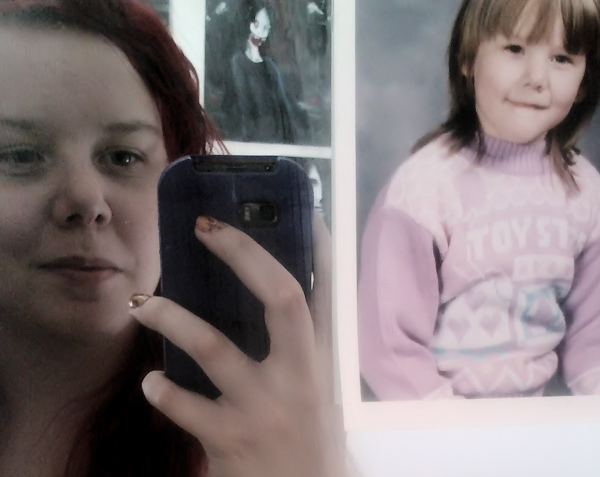 And the second part. My evil half. I shouldn't say evil. Though I guess it is evil. It's my alter-ego, the protective bitch that makes me punch people in the face. The part of me that is a cold hard survivor. If you've ever seen the Star Trek episode where Kirk's barbarian side splits from his personality, that's kind of what it's like. Kirk can't function without that side of himself and almost loses control of the ship thanks to his indecisiveness. The point being that I NEED that evil side of me, even if it's only in emergency situations. With a career in the Emergency Medical Response field, you HAVE to be quick, instinctive, and in fight-or-flight mode a lot. Even while helping people, your life is still priority. You're no use to anyone dead. So yeah.

But the problem is that I'm so good at cutting people out, it's no wonder my poor old heart is giving up on the idea of love. Nobody ever said love is easy on any end but it's even harder when you consider the kind of emotional abuse I had to go through at a pretty young age. I don't have the support that others do (family, siblings, home life, etc) so I'm seriously on my own when it comes to this. Even friends who would normally help and give advice can't properly do so; how do you give advice to someone like me? It's hard. I don't fault anyone for trying and I love hearing my friends' opinions, but we both know that practical advice on something as ridiculous as love and relationships from people who have never lived my life has no real solid grounds for being accurate.

And I hate this. I hate losing friends and people I love because that bitch side of me says "you're too involved, back out now." Like a damn two year old I listen, instead of being brave and facing these deepening relationships. I never give myself to anyone. It's no wonder every relationship I'm in has crashed and burned, some of them before they ever even took off. Not that I'm at fault for everything...I do try. Sometimes. But I don't put everything in it. I don't see the practicality and I feel that I'm not worth loving and being loved a hundred percent anyway.

The result? A deep, gnawing loneliness that I've noticed worsening in the past month or so, and that bitch side of me working even harder to push people away, because obviously being lonely is a sign of weakness that must be corrected the hard way.

Does anyone else have these fucked up mental problems? Just wondering....