There's a cute little shop in Salt Lake City called
the Old Dutch Store.
They sell all kinds of food stuffs from Scandinavia, Holland and Germany, and they have a great assortment of chocolate, plus the full deli which features delicious sausages, lunch meats, cheeses, salads (such as German potato salad and pickle salad) and they also have novelty items. I still have my Sweden bumper sticker I bought two years ago. Been waiting to get a car to put it on. HAHA!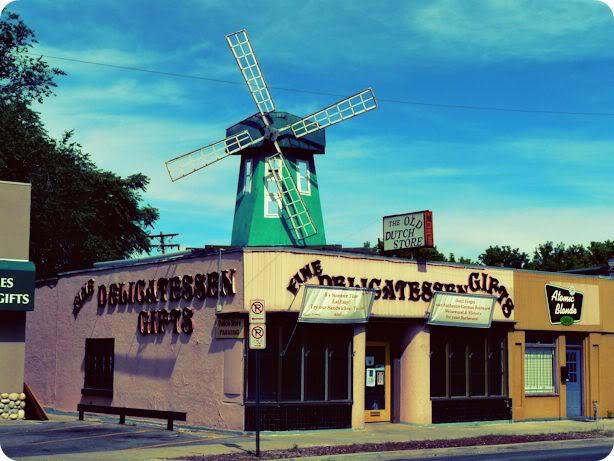 Other than me, most of the people who shop here are immigrants from Europe. Ever since I started going, multiple customers have spoken to me in Dutch, presuming that was my tongue. My stupid stares and smiles of idiocy must've made them think super highly of their nation's youth. However, when I voice that I'm not Dutch, they always dismiss it like, "Oh! yes you are." or, "Well you sure look it!" One man was nice enough to say, "You look like the
prettiest
Dutch girl!" My mother insists that most of her roots are in fact Dutch, so maybe these people are onto something.
Still, it might be a little hard to call me Dutch with my new hair color. Which by the way I am LOOOOVING!
I finally got around to changing my blogger profile picture and all, because seeing the blond made me kind of sad. I don't miss it, it's a lot of maintenance and I absolutely loathe looking like any member of my family, but still, it had a good run and it did a good run on my hair. Heh.
ANYWAY BACK TO THE OLD DUTCH STORE.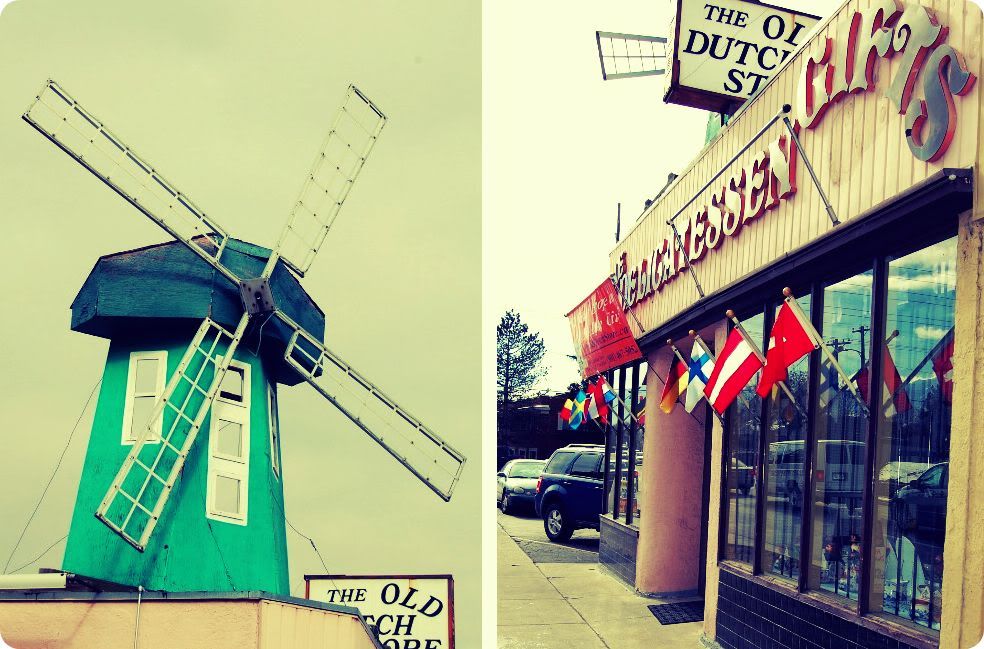 Inside, next to the deli where I get a delicious thuringer and dill havarti sandwich probably way more often than I care to admit, (with pickle and mustard, on a croissant) there's a fridge full of drinks. They have the more exotic things like lingonberry juice, but I always just go for a can of Coke. I don't drink soda often and for some reason it tastes better when canned. Anyway, the last time I was in there I noticed that on the side of the fridge, someone's plastered a ton of drawings OF the Old Dutch store. Definitely smaller children, but you could make out the windmill sitting on top of the building. The owner is always talking about her grandchildren, but the idea that the drawings are theirs is merely a theory.
Still, I saw them, and the seed was planted.
An hour later: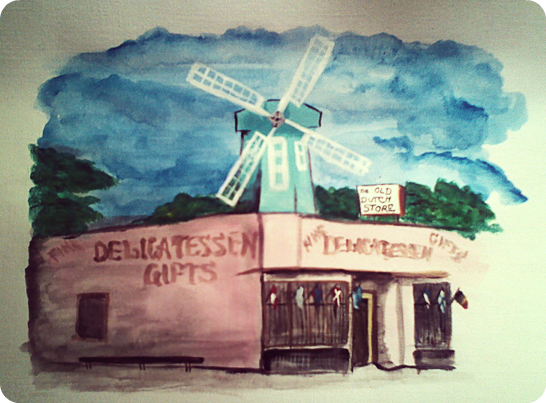 Disclaimer--I am NOTTTTTTTT an architectural painter. I get way too caught up in the geometry of it and then I go into perfectionism mode and it just gets really ugly. No. I wanted to stay away from harsh blacks and loud colors, kind of what I'm known for, because the Old Dutch Store seems so soft with its pastels and brown lettering. I gave in and darkened the picture in some spots, because painting without black is horrifying territory for me. I was going for a whimsical, dreamy look--I think I may have hit it!!!
I can't wait to give this to the owner today. It feels nice surprising (almost) strangers with something you've made. It also feels nice to paint a picture of a place I love a lot and consider one of the best places in my city!